My Blog
Posts for tag: gum disease
By Shakila Usman, DDS
August 25, 2019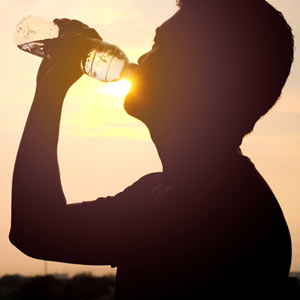 In many parts of the country, summer is often a synonym for "blast furnace" and can be downright hot and miserable. If you find yourself in such a climate, it's imperative that you drink plenty of water to beat both the heat and heat-related injuries. Your teeth and gums are another reason to keep hydrated during those hot summer months.
Your body needs water to produce all that saliva swishing around in your mouth. When you have less water available in your system, the production of this important bodily fluid can go down—and this can increase your risk of dental disease. That's because saliva performs a number of tasks that enhance dental health. It helps rinse the mouth of excess food particles after eating that could become a prime food source for disease-causing bacteria. It also contains antibodies that serve as the first line of defense against harmful microorganisms entering through the mouth.
Perhaps saliva's most important role, though, is protecting and strengthening enamel, the teeth's outer "armor" against disease. Although the strongest substance in the body, enamel has one principal foe: oral acid. If the mouth's normally neutral pH becomes too acidic, the minerals in enamel begin to soften and dissolve. In response, saliva neutralizes acid and re-mineralizes softened enamel.
Without a healthy salivary flow protecting the mouth in these different ways, the teeth and gums are vulnerable to assault from bacteria and acid. As they gain the upper hand, the risk for tooth decay or periodontal (gum) disease can skyrocket. Keeping yourself adequately hydrated ensures your body can produce an ample flow of saliva.
By the way, summer heat isn't the only cause for reduced saliva: Certain prescription medications may also interfere with its production. Chemotherapy and radiation, if targeting cancer near the head or neck, can damage salivary glands and impact flow as well.
If you have reduced saliva from medication you're taking, talk to your doctor about switching to an alternative prescription that doesn't affect saliva production. If you're undergoing cancer treatment, be extra vigilant about your oral hygiene practice and regular dental visits. And as with summer heat, be sure you're drinking plenty of water to help offset these other effects.
Even when it's hot, summertime should be a time for fun and relaxation. Don't let the heat ruin it—for your health or your smile.
If you would like more information about the oral health benefits of saliva and how to protect it, please contact us or schedule an appointment for a consultation.
By Shakila Usman, DDS
May 17, 2019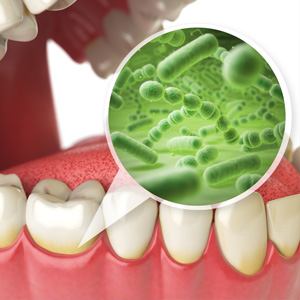 Here's a sobering statistic: you have a 50/50 chance over your lifetime for developing periodontal (gum) disease. And it's much more serious than irritated gums: if not treated aggressively you could experience bone loss, which can not only lead to tooth loss but actually increases your risk of heart attack and stroke.
Initially, you may not notice any symptoms unless you know what to look for: mainly red and puffy gums that frequently bleed during brushing and flossing. As the infection advances into the underlying support structures that hold teeth in place you may also notice receding gums (moving away from your teeth causing them to look longer), pus around the gums or lingering bad breath or taste. And one or more loose teeth are a definite sign the supporting structures have weakened severely.
So, how does gum disease happen? It starts with bacteria. Your mouth contains millions of these and other microorganisms, most of which are friendly and even beneficial. Unfortunately, a fraction of them can infect and harm tissues like the gums and underlying bone. Your mouth's defenses can normally handle them if their numbers remain low. But a bacterial population explosion can quickly overwhelm those defenses.
Bacteria are like any other life form: they need a secure environment and food. Disease-causing bacteria establish the former by utilizing proteins and other components of saliva to form a sticky biofilm on teeth known as plaque. Within the safe haven of dental plaque bacteria quickly multiply and form a complex and concentrated ecosystem feeding on remnant food particles, especially sugar and other carbohydrates.
The key to gum disease prevention (as well as treatment) is to deprive bacteria of their home and food source by removing plaque and its more hardened form calculus (tartar). You can manage plaque buildup by brushing and flossing daily, seeing your dentist regularly for cleanings to remove any remaining hard-to-reach plaque and calculus, and eating a nutritious diet with fewer sweets or other carbohydrate-rich snacks.
You can further lower your disease risk by avoiding smoking and other tobacco products and moderating your consumption of alcohol. And be sure to see your dentist as soon as possible if you notice any signs of infection with your gums. Taking these steps can help you avoid gum disease's destructiveness and help preserve a healthy and attractive smile.
If you would like more information on gum disease, please contact us or schedule an appointment for a consultation.
By Shakila Usman, DDS
October 19, 2018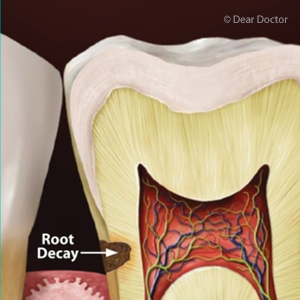 Tooth decay is a highly destructive dental disease, responsible along with periodontal (gum) disease for most adult tooth loss. And we become even more susceptible to it as we get older.
One form of decay that's especially prominent among senior adults is a root cavity. Similar to a cavity in the crown (visible tooth), this form instead occurs at or below the gum line in the roots. They happen mainly because the roots have become exposed due to gum recession, a common consequence of periodontal (gum) disease and/or brushing too hard.
Exposed roots are extremely vulnerable to disease because they don't have the benefit of protective enamel like the tooth crown, covered instead with a thin and less protective mineral-like material called cementum. Normally, that's not a problem because the gums that would normally cover them offer the bulk of the protection. But with the gums receded, the roots must depend on the less-effective cementum for protection against disease.
Although we treat root cavities in a similar way to those in the crown by removing decayed structure and then filling them, there's often an added difficulty in accessing them below the gum line. Because of its location we may need to surgically enter through the gums to reach the cavity. This can increase the effort and expense to treat them.
It's best then to prevent them if at all possible. This means practicing daily brushing and flossing to remove bacterial plaque, the thin, built-up biofilm on teeth most responsible for both tooth decay and gum disease. You should also visit your dentist at least twice a year for professional cleanings and advanced prevention methods like topical fluoride to strengthen any at-risk teeth.
You should also seek immediate treatment at the first sign of gum disease to help prevent gum recession. Even if it has occurred, treating the overall disease could help renew gum attachment. We may also need to support tissue regeneration with grafting surgery.
Root cavities are a serious matter that could lead to tooth loss. But by practicing prevention and getting prompt treatment for any dental disease, you can stop them from destroying your smile.
If you would like more information on diagnosing and treating root cavities, please contact us or schedule an appointment for a consultation. You can also learn more about this topic by reading the Dear Doctor magazine article "Root Cavities: Tooth Decay near the Gum Line Affects Many Older Adults."